Here at J. Gibson McIlvain, we truly believe that knowledge about wood and the lumber industry is a good thing. The more informed you are about lumber itself and the way the lumber industry operates — including the many factors that influence grading, prices, etc. — the more effective you'll be as a builder and a lumber customer. You'll not only be able to steer your own customers in the right direction, depending on their job specifications and price bracket, but you'll also be able to make smart purchases that will benefit both your customers and your business.
We believe that learning about Spanish Cedar will help you in this quest — even if you're thinking Spanish Cedar isn't the right species for your niche area of the lumber world. Learn all you can about this and other species of lumber, simply because it will help you in your overall quest to understand what makes the lumber industry tick.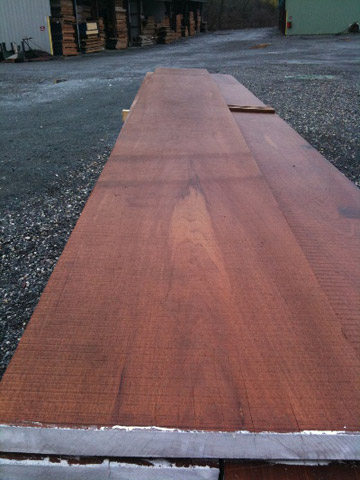 What Is in a Name?
Does Spanish Cedar smell sweet like Cedar if it really isn't a Cedar, at all? Let's hope so, because it isn't really a Cedar. Like Western Red Cedar, the term "cedar" is a misnomer. Perhaps even more perplexing is the fact that Spanish Cedar's origin is not Spain. In actuality, the term "Spanish Cedar" can be used to describe several species, all of which are members of the Meliaceae family, just like Mahogany.
Spanish Cedar's coloring, grain pattern, and workability are similar to Mahogany, yet it's not quite as stable as Genuine Mahogany. Spanish Cedar's lack of stability is due to its slow growth rate, but that same issue also results in low density, making it a very light weight species. Its natural aroma is effective in repelling insects, and the high amounts of resin in the wood help make this species highly rot and weather resistant, making it ideal for exterior applications. Known as "Cigar-box Cedar," one of its traditional uses was — you guessed it — in making boxes for cigars.
Where Does It Come From?
If Spanish Cedar isn't actually from Spain, where is it from? The variety of species in the Meliaceae family, which fall under the umbrella term of "Spanish Cedar," all come from various areas of Central America.
Spanish Cedar has also been introduced to Africa and areas of the Pacific Rim, complicating the quest for quality. Africa's Ivory Coast has produced some promising plantation-grown Spanish Cedar; despite the consistency in color and grain, these plantation species also demonstrate wide growth rings and lower density, leading to questions about the lumber's stability over the long term.
J. Gibson McIlvain is currently dedicated to focusing on Central and South American Spanish Cedar because of the more reliable quality and relative unknown status of the Asian and African Spanish Cedar. (Teak is another species with which we've decided not to buy the plantation-grown version for similar reasons.)
Here at J. Gibson McIlvain Lumber, if there's anything we're even more passionate about than the value of knowledge, it's our quality process.
Continue reading with Part 2.
Read the Whole Series