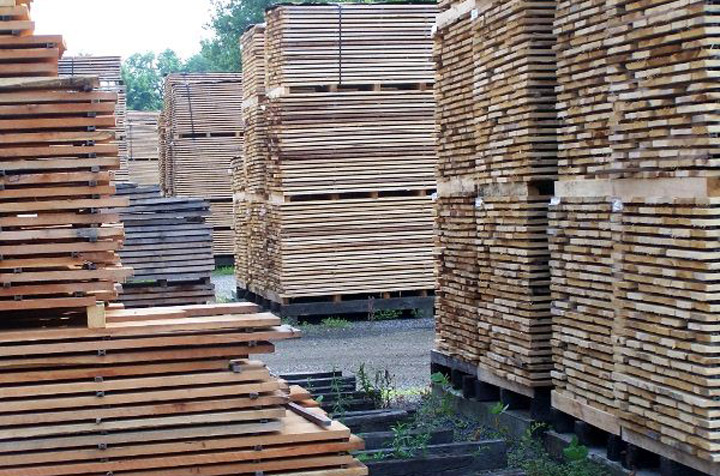 We looked at the advantages of proper lumber drying as well as the advantages and disadvantages of kiln drying wood in Part 1. Here at J. Gibson McIlvain Lumber, we employ a tried-and-true wood drying procedure that results in the most stable lumber possible. Our top priority is quality, and that is what our customers have learned to expect from us, therefore we're prepared to put in the extra time and effort to get the best outcomes.
Air Drying
You can find stacked and stickered lumber drying outside in the back corners of our lumber yard in Maryland. Stickers, which are tiny spacers between the boards that permit airflow around them, enable the uniform discharge of moisture. We paint or wax the ends of the boards to restrict moisture release from the ends, which helps to prevent checking and cracking.
While solely air-dried lumber won't be as stable as lumber that has also been kiln dried, the air drying method is the safest method for drying the wood, because it doesn't encourage the setting of the lignin as kiln drying will. Lumber that has only been air dried but not kiln dried will be simpler to work with, but it will also potentially move more when used in a humid environment.
When air drying is the initial phase rather than the only step, the wood is better prepared for kiln drying, because it can reach equilibrium with the local environment. Depending on how wet the wood is initially, the period required for air drying might range from a few weeks to several months.
Kiln Drying
The wood can then be transported to one of our drying kilns once it has reached equilibrium with the local climate through air drying. We have 10 boiler-powered kilns that are effectively heated by our millwork-generated dust. The species being worked with heavily influences the length of time and required temperature for kiln drying. Denser species need more time, occasionally even over a month. Species that are less thick can dry to perfection in a matter of weeks.
Some rare species, like Spanish cedar, need to be handled with care. A wood that is this intensely resinous is particularly prone to weeping whenever it is cut. Finishing is practically impossible because of the ensuing gummy resin stains. We have the advantage of having some of the only kilns in North America that can reach temperatures hot enough to set the sap and resin in order to stop that troublesome weeping. But because case hardening is more likely at higher temperatures, the rate of heat-up and cool-down must be slowed. Naturally, taking such precautions lengthens the time such species must spend in the kiln, but the extra time is time well spent.
Failure to take the precautions and give lumber the time it needs to dry correctly might result in damage that doesn't become apparent until after a job has started. You can rely on J. Gibson McIlvain to correctly dry your timber by taking the necessary time to do so, which is the only way to prevent the expensive effects of using improperly dried lumber in your construction project.