Do you recall studying fractions in elementary school? They were constantly subject to being reduced to mixed numbers and other things. Mrs. McGuffy insisted on it rigidly. Her deep red pen scribbles all over your arithmetic worksheet are still fresh in your thoughts as a reminder. So forget about all of it. In the lumber board industry, what could appear to be inappropriate fractions begging to be reduced are actually the formal names for different lumber thicknesses. Mrs. McGuffy will simply need to adapt.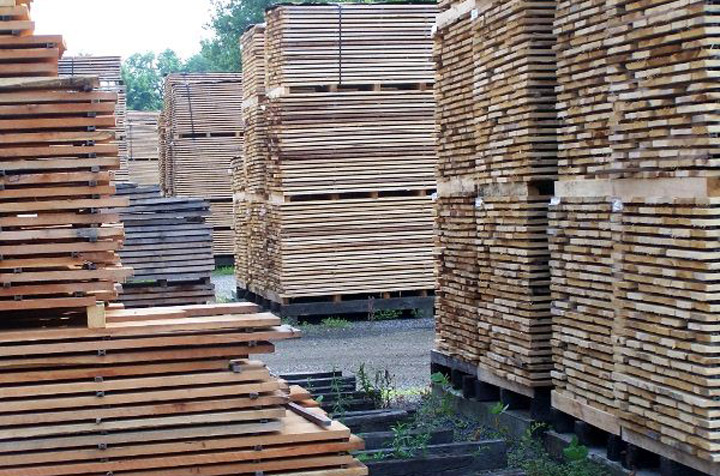 The Meaning of the Fractions
"Quarters" are used to indicate lumber thicknesses. A "4/4" or "4 quarter" board is one inch thick and is rough sawn. If that doesn't make you cringe, the 8/4 (sometimes known as "8 quarter") 2-inch board might. At least the mathematical translation makes sense: divide by 2 to get the thickness in inches.
I hope you already feel a little more prepared to order your lumber wisely the next time you go to a lumber yard.
The Origin of the Fractions
Everyone appears to have an explanation for how and why the terminology for lumber fractions first developed, albeit this may just fall under the heading of lumber lore. This unique technique of defining thicknesses appears to have developed as standardized sizes became increasingly significant, according to several sawyers and other specialists in the lumber sector.
Initially, regional and then national distribution of lumber from mills scattered across the country necessitated a uniform system for characterizing size. Quarter-inch increments made logical sense because half-inch increments would result in wasteful waste and one- eighth-inch increments would result in an absurd number of stock sizes to keep in stock.
The term "quarter" originally referred to the quantity of stops on the log carriage, which moved the log over and locked in the board's thickness. A sawyer could output a board that was one inch thick, often known as a 4/4 board, by nudging the log carriage to the fourth quarter since the stops were set to duplicate the quarter-inch norm.
To be clear, this lumber lore hasn't been thoroughly proven to be actual history, but anecdotally, it appears to be true.
Why Fractions Are Important
Whether or not you recall (or believe) the origin story for the fraction-based thickness descriptors, it's important to know that when you hear timber being described in this way, you can be sure that it refers to rough sawn lumber. As a result, once the board has been planed, joined, or both, you can anticipate that it will be smaller than the statistics indicate. This information will not only help you plan properly when placing your purchase, but it will (hopefully) also get you ready for the reality that these fraction-named boards will need to be milled. (If you don't have in-house milling skills, we can assist you.)
Regardless of how believable you find the tale about the origins of fraction-based thickness descriptions for lumber, at least you are beginning to comprehend what a fractional designation for lumber entails. There's more, though.
Why Fractions Are Actually Vital
You can be certain that the timber will be charged per board foot – a volume measurement – when you purchase lumber that is referred to as 4/4, 8/4, or other unreduced fractions. For a number of reasons, rough lumber must be sold by the board foot. One is that although the log carriage may be able to control the size of the boards that emerge from a given log, the cutting blade is quick and will result in boards with varying thicknesses along their length. The breadth of the boards will fluctuate in unanticipated ways depending on the log form.
Meaning of a Fraction-Named Lumber Board
Your rough-sawn boards need to be dried and seasoned, which will cause them to shrink even further. The degree of shrinkage can differ significantly depending on whether it is air dried, kiln dried, or both. The 4/4 board will eventually reach the specified size, which has been the objective all along. In reality, a freshly sawn 4/4 board can be closer to 1-1/4 inches thick.
When working with an organic material like wood, there will always be some difference in actual end result sizing among boards. However, if you order timber by volume, even if there is some variation from board to board, you may at least anticipate receiving a specific amount of lumber overall. Similar to how a gallon of milk will always be a gallon, even if it is put into multiple cups or jars of different sizes and shapes, 500 board feet of oak will always be 500 board feet of oak.
What Fraction-Free Boards Tell You
If lumber isn't priced per board foot, it is instead sold by the linear foot. Lumber priced by the linear foot indicates that at least two of its faces have been planed, much as lumber described in fractions and sold by the board foot indicates that it is rough-sawn lumber (S2S). Sometimes, all four faces are planed (S4S).
The cost of each board foot is the starting point for pricing planed lumber, after which is added the cost of labor to mill the boards to a specific size. You pay a little bit more for the advantage of knowing the specific width and thickness of each board. The boards are, however, prepared for installation on your project site, because the work of taking the raw lumber to make the final sized and finished boards has already been completed for you.
No matter how much you dislike unreduced fractions (we genuinely hope you don't have dreams about Mrs. McGuffy spitting red ink all over your lumber order! ), they are still a necessary evil. Even though the underlying history for all the fractions behind the naming of boards is still somewhat a mystery, hopefully you now have a better understanding of why those fractions exist and what they mean.